That's a really good question and an extremely difficult one to answer with four to five straight figures for exact services.
However, over all the capital cities and looking at median pricing in this article, we will give you ballpark figures for the services you would generally expect.
Depending on the scope of the work you require, the size of the organisation and the competition within your niche, a quotation for SEO services will vary between $1400 to $10,000+ - this is the average median across the major cities in Australia.
With a one-off set-up fee between $3500-$10,000+ which is variable due to the number of pages on the website and the amount of targeted keywords in question (this does not apply to all SEO agencies).
So let's start by looking at the variables and pros and con's that different approaches and packages are out there.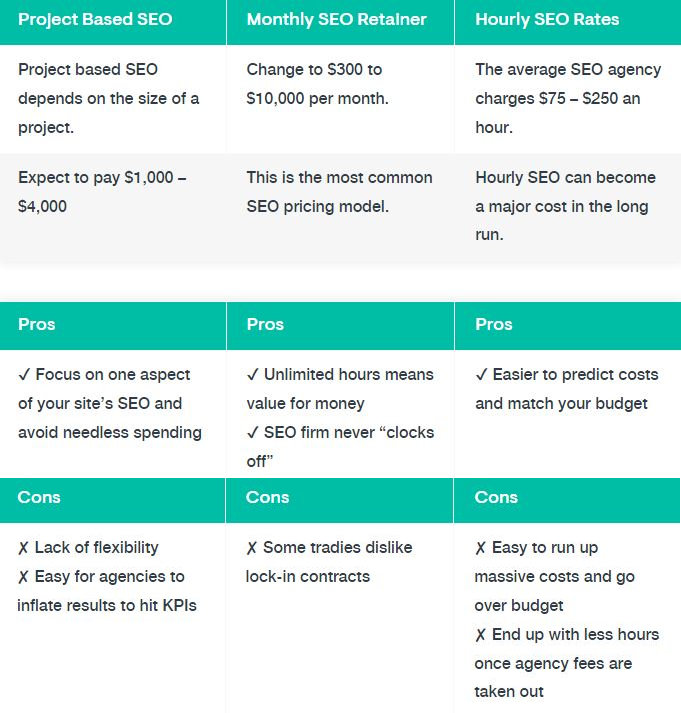 So as you can see from that source alone there are many different ways to conduct SEO and each one with variety in cost.
So what we look to do is break down a varied range of reasons SEO is priced the way it is.
So, if you have been involved in SEO before and felt you didn't get what you expected or maybe looking to dip your toe in the water and try it out for the first time; you should find some useful information in this article.
Frequently Asked Questions (FAQ)
Although it's never good to over-summarise there are many repetitive questions asked (and rightly so by business owners when it comes to SEO) when someone is investing marketing money into their business.
Here are some examples:
How much is SEO in Australia?
Why is it so expensive?
Why do prices vary so much?
Should I be paying per keyword/phrase?
Is SEO charged at an hourly rate?
What is the average monthly spend on SEO in Australia?
So we'll address these as best we can and also myth bust at the same time about some common misconceptions within the industry.
So what Should I be Spending Per Month on SEO?
The first thing to start to know about SEO is the myriad of new ranking factors that Google had brought into play over the past number of years.
The industry has gone from having around 5-8 major ranking factors that an SEO agency would focus their team on, to now having well in excess of 200 to consider!
And many of these carry significant weight as to whether you will fail or succeed in SEO.
Here are some of the main areas that an SEO campaign manager would focus the majority of your monthly/yearly spend on:
What industry you are involved in?
How competitive online is that industry?
Your target market - How big is it and is it local, state or countrywide?
Your service area
Previous SEO work conducted - Why did it not succeed?
Is there a requirement for fresh content and how much?
Does the website have the right amount of pages and are they optimised?
These are just a few examples of the assessment period a company would go through before coming to the proposal stage.
So this is where it gets confusing to just give a price for SEO.
With the level of competition in the market, you could see a company invest less than $1500 per month into SEO and achieve its goals maybe due to its nich and less competition whilst another company could invest thousands and not be able to usurp its competitors.
Also if you are taking on a prominent SEO company that has years of experience and large corporations and enterprises on its books they are likely to charge more than a small local entity that is talented but is looking to build its portfolios and will therefore quote you lower to attain your business and keep you for the long-term.
What is the Average Cost of SEO in Australia?
Off the back of extensive research done in the first two quarters of 2023 here are 10 current statistics in Australia as a guide: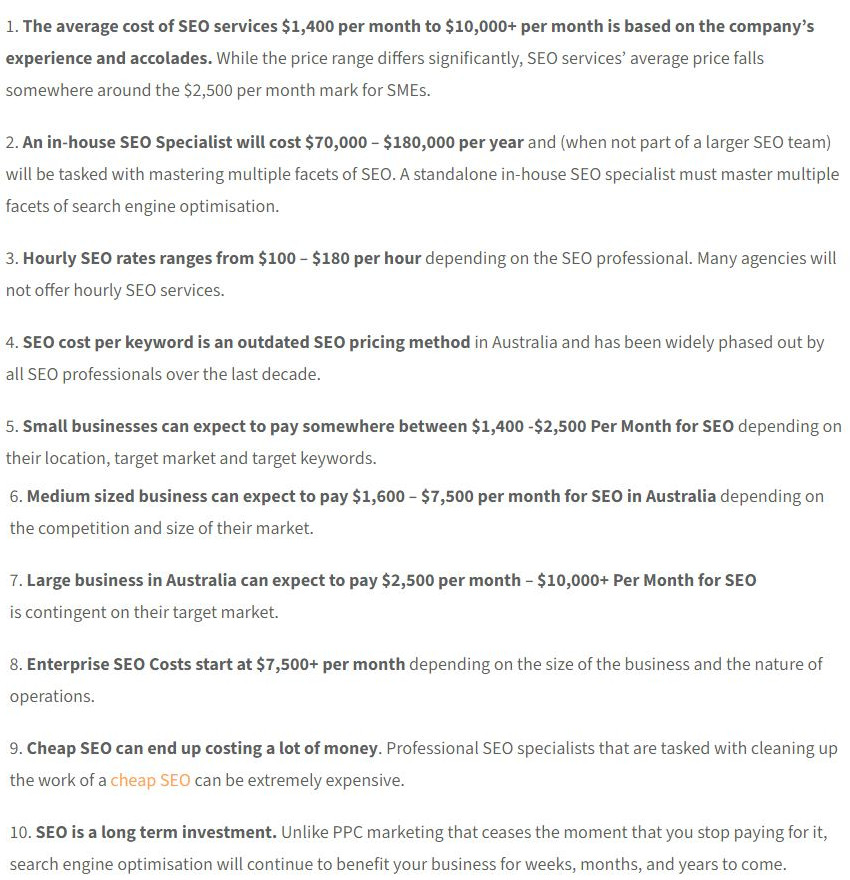 $1400 to $10,000+ is average, and that is why many of the Frequently Asked Questions we listed earlier in this article are impossible to answer as SEO has now become an industry that has to take on a new business on a case-by-case basis.
Standard packages offered 5-10 years ago no longer get the results as the landscape has changed beyond all recognition.
However, it is the structure of how you are dealing with the SEO agency, or SEO specialists that can make a big difference in both short and long term results.
One-off SEO projects are becoming rarer due to the increased website activity since the global pandemic.
Pre-Pandemic statistics showed that Google received in the region of 5.5 million hits/enquiries per day, however, this graph will show you the pandemic has changed society as a whole and its dependency on the internet: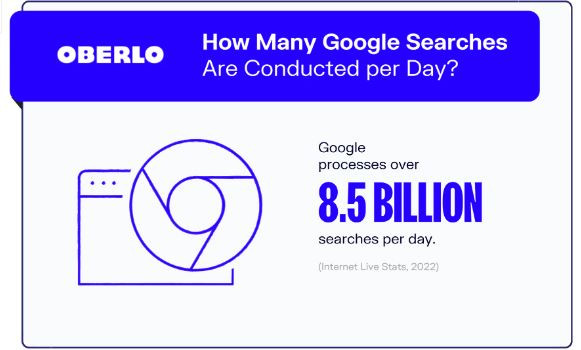 So, therefore, the intensification and focus on websites and what they offer is incomparable to only 3 years ago. With e-Commerce and local SEO being the two areas with the most increased competition, and therefore cost to the business owner.
This has also led to a decrease in one-off SEO projects whereby a business would pay for a one-off booster project which again, depending on the size of your business could vary between $3500 - $10,000.
Included in the make-up of the costings for this would be the number of targeted keywords and the number of pages plus others.
But as this statistic will show you this model is fast becoming out-of-date and functional SEO packages coming to the fore: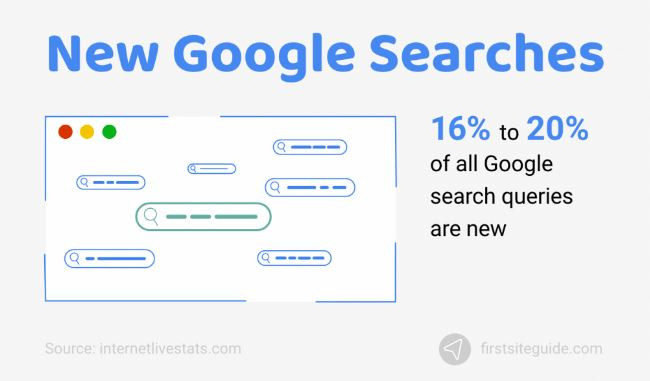 16-20% of all search queries on Google in 2023 are NEW.
This means online behavioural patterns are changing at lightning speed and no business can afford to stand still online and expect results.
So SEO has turned into a 24/7 package encompassing many factors and analytics to keep on top of this ever-changing environment.
New Specialists Come at a Cost
With that have risen new career paths and a requirement to hire SEO specialists, content writers (full-time), coders, graphic designers, web developers and more…And today these are top-level careers that carry significant salaries.
We are no longer in the realm of hiring staff to just crunch numbers, content writers to just write a Homepage or a blog occasionally, or someone with basic WordPress skills to add some images to a site and expect page one of Google results.
For SEO companies to keep their clients ahead of their competition they need to hire experts which comes at a cost that was not attached to SEO services 10 years ago.
An ongoing SEO campaign now focuses on
Constant link-building (including purchasing back-links using a percentage of your monthly/yearly budget)
On-Site analysis and amendments (ongoing)
Off-Site analysis and amendments (ongoing)
Competitor analysis (ongoing)
Changing market and consumer online trend analysis (ongoing)
Content Marketing (continuous)
Blogging (continuous)
Social Media (continuous)
Typically an SEO agency will work closely with their customer and provide weekly or monthly reports and analyses on the overall outlook for the ongoing campaign.
So taking all these factors into consideration how can we answer what SEO packages cost?

As you will see Safari Digital is basing these figures on 2023 but being any more specific than that requires a thorough interview and assessment of your business to know where you fit in.
Plus, how many staff and hours do I (as a campaign manager) need to allocate to Mr/Mrs. Jones project for them to succeed. This will then give me my ballpark monthly figure.
SUMMARY
The global pandemic has sped up what many people in the industry believed we would see in the next 5-7 years within 2 years, like Usain Bolt running the 100m in half the time of his world record. With this has become a reassessment of what SEO services are required to get companies to the top and keep them there. With the increase in online use, this is no easy job. Google has made major updates in 2021 and will continue to do so, therefore, posing more challenges and requiring further expertise to adjust SEO campaigns on the fly to keep companies positioned but also happy with the return on investment (ROI) that they are paying their SEO agency on a monthly basis. With so many variables the question of 'How much does SEO in Australia really cost?' Is still a tricky one to give a definitive answer? It does come down to:
The size of your business
The competition within your niche
Your targets and timeframes to hit them
Your budget
Shop around, and get as many quotes for as many services as you can. TIP - if you are a smaller business, look to work with a smaller SEO agency, they may well give you that extra attention as you help each other grow.