In a fast-changing Market - What you Need to Consider
With the rapid changes in search engines such as Google, Bing and Yahoo! Plus AI storming into the market it is becoming harder and harder to keep up with new ranking factors for companies craving page-one rankings for keyword search terms and phrases.
Approximately a decade ago there were fewer than 10 significant rankings factors that Google considered when ranking a business for a search term.
In today's market, there are over 200! So what does this mean for you?
It's a lot more difficult today to be successful with SEO than it has ever been.
COVID-19 has seen a surge in internet usage that no one foreseen would continue after the pandemic subsided.
It was understandable that during periods of lockdowns across the world the internet would be excessively used, but Google (who have the vast market share) showed figures through the roof in 2022.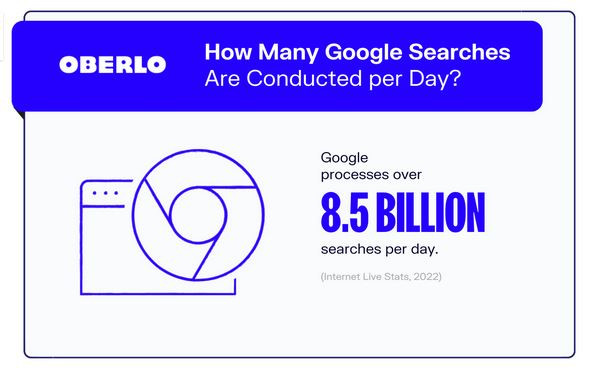 So What Options Are There?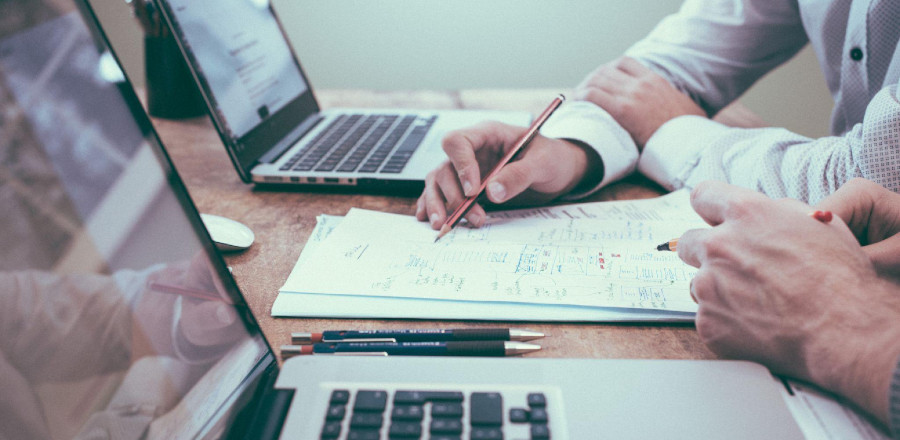 As we are sure you are aware there are many SEO agencies out there that are capable and can offer you case studies on successful campaigns.
New Businesses
For a new business, it is advisable to look to align yourself with a local SEO agency, especially if your products and services are within the local area.
In combination, this local expertise could prove invaluable to get your business off the ground and gain brand recognition quickly and by outsourcing to an SEO agency, will alleviate vital time spent on the recruitment of staff, (which can be a long process and we'll cover more of this further in the blog).
Established Businesses
If you have been in business for several years now and have formed an in-house team then you are in a situation where you can decide to increase your team as they are easily trainable.
However, with the drastic changes in the digital marketing industry, there are specialists who deal with certain areas of digital marketing such as:
Web Designers
Web Developers
Coders
SEO Specialists
Marketing Specialists
Campaign Managers...
And the list goes on so even though adding to a team shouldn't be a challenge, identifying what skillset is required to stop a recent slide in SEO results or website hits needs proper evaluation. Plus subsequently, the right person(s) needs to be hired to reverse the slide.
Mixing Both Options Together
This option can be a little tricky.
There is the possibility that the in-house team may not be achieving the results you are looking for and potentially hiring new staff is above your marketing budget which may be forcing you to look at outsourcing work.
However, not at the cost of losing your in-house team of course, here is where thorough communication is ESSENTIAL if you want to move down this road.
Having an experienced team looking at potential issues from the outside looking in can be very effective as they can come into the situation with a different outlook or disposition.
You can negotiate to look for help in certain areas to start and see how the relationship can grow, but as a business owner, it is important to manage and ensure your in-house team manager or supervisor, doesn't feel shunned in any way.
You must understand that SEO is becoming overwhelming for small teams and the continuous hiring of staff is unsustainable.
The Current Marketplace
With competition at an all-time high, constantly changing algorithms and a lack of up-to-date knowledge of what needs to be done to achieve results we are in a stage of flux.
However, it is advised to stay the course in the long term.
If you adhere to Google's best practices, ensure your Google Business Profile is 100 percent correct and up-to-date and put yourself in contention for page one for many of your search terms - you will see significant dividends over time.
Managing not only expectations from the top of the business, but time, marketing budget and human resources is no easy task.
This is challenging even in good market conditions let alone off the back of COVID-19, then global uncertainty due to the war in Ukraine and inflation to boot!
So sometimes SEO can then be overlooked for other sectors within your business or industry. However, do not fail to overlook that this is now the strongest marketing tool in the world.
It has comfortably surpassed:
TV Advertising
Newspaper or Magazine Advertising
Radio Advertising
Billboard Advertising
Digital Billboard Advertising
Word of Mouth
YES! Even word of mouth can't get you anywhere near the amount of business being in the top spots on Google's page one can for a search term or phrase.
So, you need to stick with organic SEO but you need outside help. This can get you moving along quicker at a much-reduced cost and time than hiring physical staff in-house.
As a business owner that is only used to in-house work, it can be a little daunting to outsource ANY aspect of your business to a third party, so you need to ensure you find the right SEO agency to work with.
Compulsory Employee Benefits in Australia
So before you put yourself in a situation where you feel forced to make a choice between full outsourcing, 50/50 with an SEO agency or an overhaul and complete outsourcing let's take a closer look at standard employee benefits.
This is where it can be the differentiator in your decision-making process.
Medicare
In Australia, Medicare is universal and is funded mainly through a two percent levy on resident taxpayers' incomes.
However, foreign nationals (won't be covered) and in some cases higher earners who use private patient hospitals may have a 1.5 percent surcharge.
So an employer you must choose a fund that provides adequate coverage and also means they are not subject to the Medicare surcharges for those who don't qualify.
Superannuation
Has been implemented to ensure people accumulate enough through their working life to provide for them once they are retired.
You don't need to register for it but as a company, you must have a fund and it must comply with regulations.
However, it is becoming more commonplace for staff to choose funds or self-manage a fund. So that leaves you as the employer making sure they are compliant with the government's Super Fund Lookup.
Flexible work
After 12 months under the FW Act, any employee can then by law ask for flexible working hours. As a business owner, you can only refuse this based on provable business grounds.
Workers' compensation insurance
It is mandatory for the employer to cover compensation insurance for their workers. This relates to each state and territory in which you have workers.
There are several factors at play such as your industry, any previous claims and salary.
Personal / carer's leave
This applies to full and part-time staff.
They are given ten days for both personal sickness and carer's leave per year they are employed.
On top of this is granted compassionate or bereavement leave.
Plus, in cases of domestic violence; unpaid leave. But the employer doesn't pay these upon contract termination.
Non-Compulsory Employee Benefits in Australia
Here is a list of the most common:
Life and disability insurance
Long-term disability
Employee Assistance Programme (EAP)
Childcare places and subsidies
Additional annual leave
Paid relocation service & visa sponsorship
Additional flexibility
Private Healthcare or Dental
Wellness
Paid parental leave
Commuter allowance
Hardware
Career development allowance
Stock options
Annual bonuses
These can be applicable in many different forms for small to medium-sized businesses and many apply to larger corporations with bigger incentive packages for employees.
So you can see how much undertaking there is now in Australia when hiring in-house.
Whereas hiring an SEO agency that already has multi-skilled staff that cover all the required areas for you to be successful can start in Australia between $1000-$10,000 per month depending on the scope of work that needs to be done.
What Impact Can Outsourcing Have on Your Business
Think about it from this perspective, you already have a trained, trusted and capable in-house team that is implementing SEO but you wouldn't still be reading this far into this blog post if it was all sunshine and rainbows right? EXACTLY.
Or on the other hand, you are a small business or a start-up that is considering which way to go with a marketing plan.
So, outsourcing is where you can greatly increase productivity levels on all fronts.
If you have an existing in-house marketing team you can now put their skills to use in other areas.
If you are starting a small business, knowing the amount of work it already takes to start a business in Australia it is advisable to outsource your marketing from day one.
If you want to succeed in this extremely competitive market; you need professional help.
So let's take a look at a few points to see what outsourcing brings to a business.
Paid-for Industry Tools
Seasoned SEO agencies and SEO professionals don't just use Google's FREE tools they are generally on the cutting edge of all the latest tools that are released around the globe that help pinpoint accurately 'everything SEO'.
However, these tools do cost and will be part of any proposed budget after deliberation.
If your in-house team are not familiar with these tools, it can be time-consuming and more costly to train them on how to use the analytics to their fullest.
Tools such as:
are all superb analytical tools while:
are top-of-the-line enterprise tools.
But as we just covered they take time to learn how to use them to anywhere near their full potential, while an SEO agency won't hire SEO staff in many cases if they don't already have this knowledge.
So the upside of outsourcing is you are tapping into existing knowledge, resources and industrial SEO tools.
Cost-Effectiveness
Training SEO is time-consuming and laborious at best. If you have an in-house marketing team or at least some of them are experienced marketers but not SEO experts, then this can take up even more valuable time and whether they have the skill set required may not be noticeable at the start.
Moreover, if you have marketers that need converting into SEO then they are usually already up to their neck in work as it is, and taking them away from that can also be detrimental to everyday results and earnings on top of training costs.
You Can't Buy Experience
We've established that hiring an in-house team is more time-consuming and costly than outsourcing. So, if that is what will sway your eventual decision then outsourcing is where you should be looking.
For a fraction of the cost, you have instant access to a team of fully qualified professionals who work on various SEO campaigns every day in all kinds of industries.
TIP - When you are looking to outsource and speak to an agency ask them if they have Testimonials and case studies of work they have done in your industry and see the results.
Any professional team won't hesitate to show you their previous work for credibility.
With SEO being an ever-changing environment, getting it right from the start can be a lot less costly than trying to fix something that was started incorrectly.
Get a Strategy Implemented for you
Analysing your business, your industry and your competition are the first things an SEO Campaign manager will look at before agreeing to take on the project and at what cost.
They will then look to implement things such as:
Keyword Strategy
Content Creation
Social Media Integration and Strategy (YouTube, blogs, tutorials, webinars and many more...
Content Marketing (the art of generating leads through content creation)
A Link Building Strategy (obtaining backlinks from domains within your industry already valued by Google)
Where an SEO agency could work effectively with an existing marketing team would be to correlate these with video marketing creation, social media efforts, also existing email campaigns and whatever else your team are already working on.
TIP - Remember the days of having to travel and sit down with people is a lot less prevalent post-COVID-19. Both teams can continually engage through video calls such as Zoom and Google Meet. Therefore always in communication with both sides doing what they do best. For small businesses that will outsource 100 percent, you can communicate with your campaign manager exactly the same.
Looking at your Business Objectively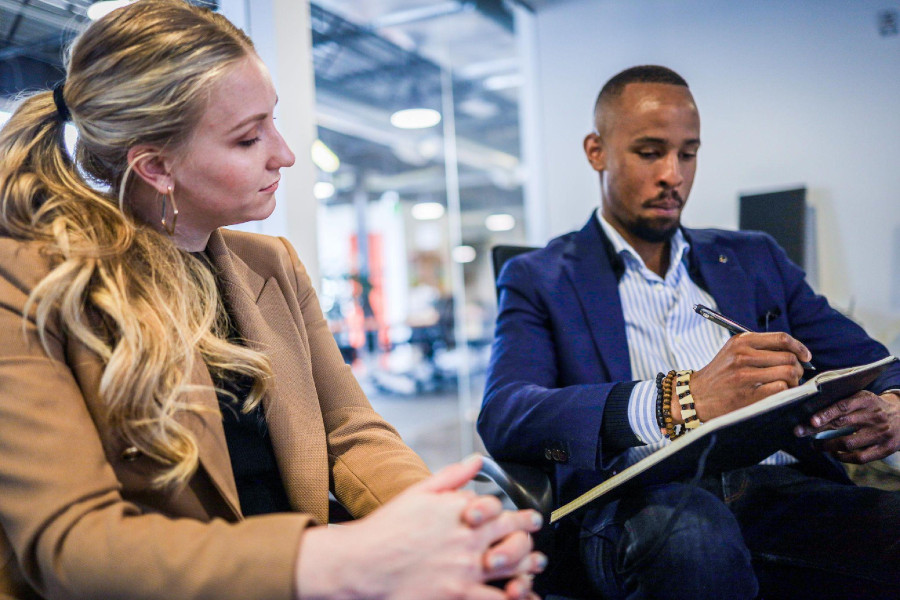 When you are working for a company for a while it is easy to have passion for the business, the brand and the team and this is a great thing, don't think it's not. However, it can sometimes take objectivity out of the equation.
Objectivity is something that businesses small and large need now more than ever before.
The online behavioural patterns that have changed since COVID-19 have never been seen before and they are likely to continue.
So, aligning yourself with a company that in turn succeeds alongside you but can see things objectively and give you different ways to potentially approach a new contract or marketing strategy can be worth its weight in gold!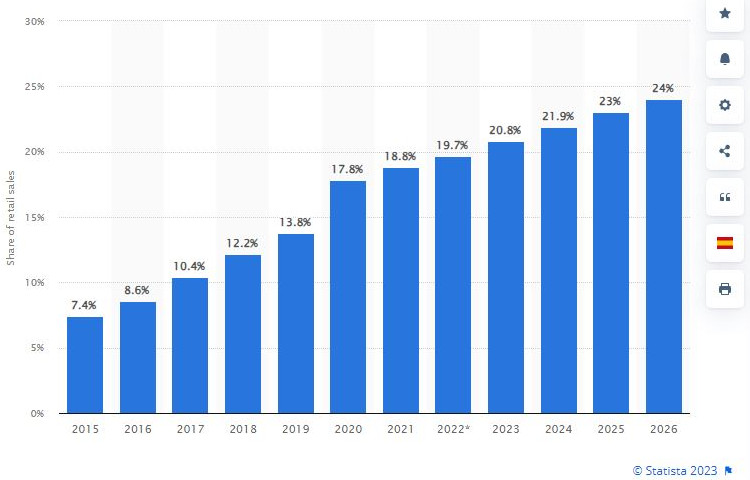 Just looking at the jump between 2019 and 2020 in Global eCommerce sales shows the increase in online shopping, the trust that it is now secure and also is the easiest way to obtain what you want from trustworthy online businesses.
The reason we highlight 'trustworthy' is because consumers now understand that Google doesn't have companies at the top of its search engines unless they deliver on that search term you entered.
NOTE: The graph above is taking into perspective a global trend, in developed countries the figures are much higher and expected to rise in 2023.
Google's algorithm is meticulous in choosing what company represents its search term best, based upon hundreds of factors, which for a business owner is a nightmare scenario, as it's impossible to cover everything.
SUMMARY
Whatever you're situation is, whether it be getting started or looking to outsource some marketing work or a complete overhaul of your marketing structure, looking for a capable SEO agency is almost a necessity now. COVID-19 sped up the inevitable world we are now living in; the online world.
People communicate online more, shop online more, trust online reviews more and ultimately spend more time online. Add all of those things together and any smart business owner knows they will need some kind of assistance to negate this ever-evolving and ever-demanding need from people for information and for you to be seen amongst your competition; which you MUST. Good luck.