No doubt, in the past year or so, you will have heard more and more about meta and the Metaverse. In this article, we will familiarise you with what the Metaverse is, how it works, and how Metaverse SEO can benefit businesses moving forward. By the end of the article, you will likely be thinking about what Metaverse SEO company would be an excellent choice to work with.
The Metaverse consists of digital avatars to play and shop. The concept and familiarity you have with the phrase came from Facebook's parent company, which has the vision to build the Metaverse, spending considerable sums of money to do so.
Now known as Meta Platform Inc, we are on the cusp of growth in this sector like we've never seen before, which will open up colossal marketing opportunities and, to some extent, a blank canvas like social media did when introduced.
So does the Metaverse really exist?... Well, YES...kind of. For example, gaming already has a Metaverse as it's essential.
This guide contains:
An Intro to the Metaverse
Metaverse-focused Marketing - Is it the future?
What Can the Metaverse do for Marketers?
Real-life Marketing in a Parallel Metaverse
Metaverse SEO
Metaverse Marketing Benefits
Joining the Metaverse: A Quickfire 4 steps
How do I Equip Myself for the Metaverse?
An Intro to the Metaverse
What is the Metaverse?
There is more than one opinion on the definition of the Metaverse. Typically "meta" is the definition of "beyond" with "verse" pertaining to the "universe", but there are variants. The Metaverse is omnipresent where Augmented Reality (AR) and Virtual Reality (VR) meet to link digital and physical worlds that open opportunities for brands savvy with using NFT worldwide.
What's NFT?
NFT stands for "non-fungible token", known as a digital asset. Blockchain technology helps prove and trace the owner in this new way of trading.
Given time and the rapid growth in the past two years, the future of marketing will be in the virtual world, acting as a hub for brands to conduct business. Think of it as a much-advanced form of eCommerce in another dimension.
Let me set the scene. Your digital avatar enters a DIY store and meets with an avatar assistant who is an expert in home improvements and starts to answer questions regarding kitchen installations and what tools and materials you require.
You order materials, and the goods are shipped to your address; WELCOME...you have just entered the Metaverse, where our physical reality meets the virtual world.
What the Metaverse would mean for a brand is the ability to enter an advanced digital reality, make yourself part of it, and use your physical reality and knowledge to market to existing avatars. PwC has clearly stated, "The Metaverse is Coming", and is seeing considerable upside for the Metaverse market; potential growth of over $1.5 billion during the next decade.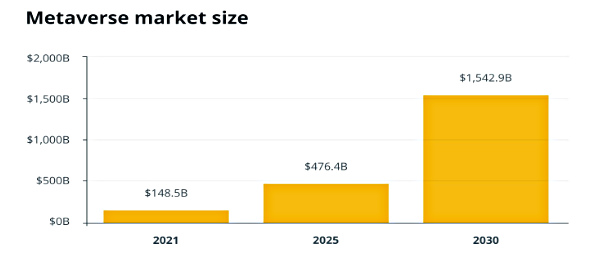 Metaverse-focused Marketing - Is it the future?
Constantly monitoring analytics for organic SEO is essential in 2022 and beyond. So, if you had followed what was trending in online searches back in 2021, you would have seen the spike in "Metaverse" searches looking like a needle on an earthquake monitor when at eight on the Richter scale.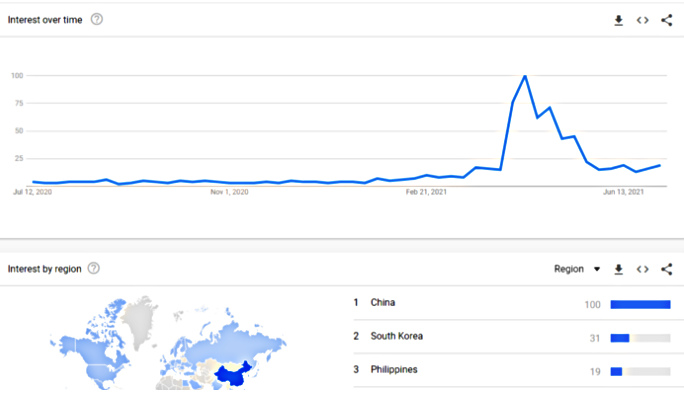 For those of you who have a profile on LinkedIn, you will be surprised at using the keyword "Metaverse" you will know to see thousands of people involved around the world in the Metaverse and subsidiary businesses associated with it.
Google News has about 23,000,000 results as of the end of August 2022.
Instagram has 2,431,555 posts using the #metaverse as of August 2022.
Twitter has endless posts regarding the Metaverse going live every hour.
What Can the Metaverse Do for Marketers?
As with regular SEO and optimisation on the search engines such as Google, Bing and Yahoo! We need to take a closer look at how you become visible in the Metaverse.
When you get into the Metaverse, you'll be in good company, with global brands such as Disney, Nike, Gucci and Facebook already heavily into creating virtual communities.
Now you can move into the virtual world with its behavioural traits under a new economy with a new currency giving brands somewhat of a blank canvas to work from and get in at the start of the evolution of the Metaverse.
Why Brands are Investing in the Metaverse
The concept admittedly is attractive to both brands and consumers, as the brand is not simply selling a service or product but can also set up a futuristic experience. In the new decentralised internet known as web3, which Google or other major companies do not run but where the users can own, operate and contribute, and marketers can thrive, lies a world of opportunity.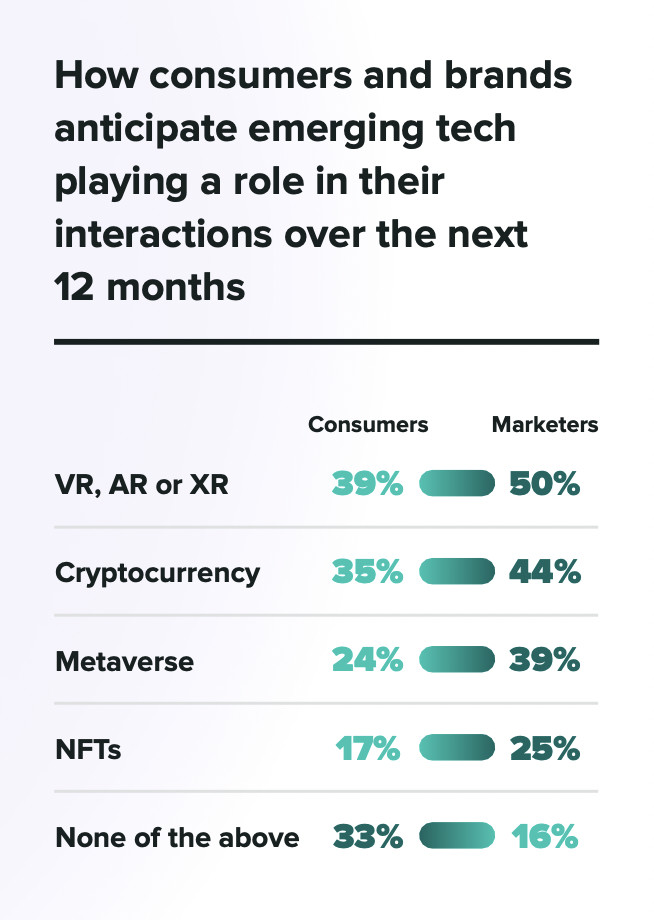 As we can see, marketers are gearing up for Metaverse tactics and budgetary consideration. With forward-thinking, they are ahead in having AR and VR implemented in their strategy.
At this stage, brands are more interested than consumers, but that will change given time.
Real-life Marketing in a Parallel Metaverse
Firstly it is good not to underestimate the value of Millennials and Generation Z as your initial target market. Both of these generations have used or are aware of VR, and some may have used it already. But at minimum, gaming and graphics have been prevalent through their formative years.
Firstly base your marketing around real-world experiences, or continue in the same vein as your brand is doing online now. For example, there are horse races in the Metaverse, and sponsors are at the event during the big races, which are the same as in our world. The Kentucky Derby, for example, will have big brands such as Stella Artois advertising at the event. So you are looking to market the same way to someone's avatar as you would in real life.
Metaverse SEO
Number of mobile augmented reality (AR) active user devices worldwide from 2019 to 2024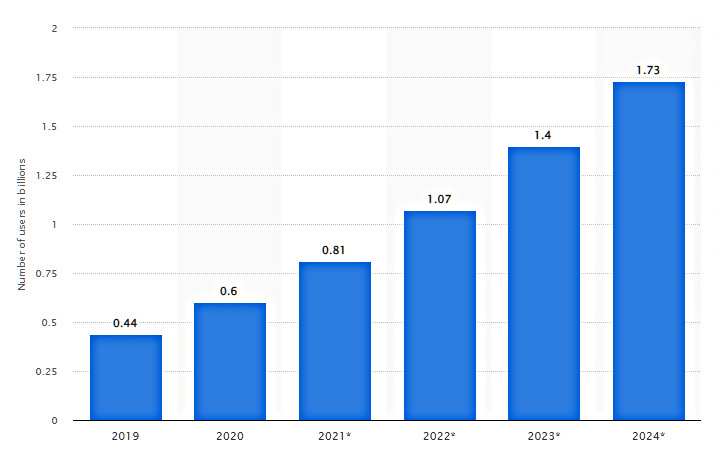 Metaverse SEO is not dissimilar to regular SEO practices currently in use for optimisation on search engine results pages (SERPs) such as Google, Bing and Yahoo!
For example, optimising content for keywords and phrases containing "Metaverse" would still be effective.
AR Content Strategy
With this 3D immersive virtual universe, there's a new way of engaging with people on different levels, meaning content experimentation should be tried.
So let's take a regular business - Travel and Tourism.
In your blog, you will promote package tours to Phuket, Thailand. Typically you would create a detailed blog, including various high-resolution pictures and up-to-date information about the island, its attractions and hospitals. You would also include a short video showing the beaches with locals and street foods. However, in the Metaverse:
You can go further. As in this universe, you can walk consumers (avatars) through a virtual short island immersion. This can include a brief brush over the best beaches, a quick visit to the best hotels and resorts where they can choose and pay for their accommodation and more...
Local SEO
If you are thinking about a retail store, small business or local restaurant, then to get started and understand from the beginning, Google is here to help, so check out Google's AR/VR systems.
They will help you bridge the real world with the new reality. You can create your own 3D visual using your local listings.
Visual Search
Images will play a pivotal role in marketing in the Metaverse and in our everyday lives. AR will change how people shop by allowing them to see products in real time.
AR will be home to jewellery, clothing and many more digital garments.
Social media on Metaverse
With Facebook being part of Meta, they see themselves fully integrated shortly. So they have enlisted the help of Oculus for hardware. Together with the VR platform "Facebook Horizon" and a new executive team, they are working on a new social metaverse.
This will intrigue many brands and corporations who benefitted from getting in early with social media on the world-wide-web.
Metaverse Marketing Benefits
Look at the Meatvarse as the rebirth of the internet. If you knew then what you know now, what would you do? Although it's not going to be that simple or even necessarily follow the same path, those preparing to enter the Metaverse either as a brand or as an avatar to check out what opportunities lie within NOW will reap rewards later. Here are some of the advantages of marketing in the Metaverse:
Get Brand recognition in two separate online entities
Get Increased outreach and engaged
All businesses that serve a purpose are welcome
Long-term results like organic SEO
New opportunities to test marketing responses
With many big-name brands already signed up with a Metaverse presence, they are already activating brands to be ahead of potential competition. Many have likened this to the birth of social media. The early adopters of any new marketing platform will reap the longer-term benefits and are more likely to take risky moves to see if they will pay off in a virtual world; that maybe wouldn't have taken that risk in our world.
Joining the Metaverse: A Quickfire 4 steps
1. Understanding the Metaverse
Understanding what the Metaverse is and its workings are essential to get involved. Also, it's necessary to understand the industry projections, such as the Metaverse's $80 billion ETF assets by 2024.
Here is where the tech giants have already invested millions in research and development (R&D) and have become startups and early adopters. Already collaborating with companies and platforms within, they are creating early branded activations, among other things.
The first thing to do is to educate yourself on the Metaverse to understand how to approach and execute your brand activations. You wouldn't dive headfirst into a marketing campaign online, so the same rules apply to the Metaverse. However, don't be fooled into thinking you have to become an expert; you should look to be proficient at interoperability and extended reality as a minimum.
With this emerging technology, new opportunities will arise from development and expansion. Look out for new online courses on YouTube that are starting to spring up; breaking news in the Metaverse will happen as we have them here. Keeping up to date with web3/metaverse adoptions and advancements in cryptocurrency and NRTs will be essential to maximise exposure and returns. Sign up for newsletters like Into the Metaverse from Time to keep up on the latest news and trends.
2. Consider your Brand - Will it Convert into the Metaverse?
So far, the most active participants are Gen Z and Millennials; however, don't let your creativity stop there. For example, Roblox and Fortnite massive multiplayer online (MMOs) can be used to promote an energy drink. With gamers often using energy drinks to keep alert during gruelling long online battles and sporting events, they are the perfect target market for brands such as Red Bull or Coca-Cola and their various drinks.
So would your brand convert? Fashion will undoubtedly work as 'wearables' for your avatar is now widespread, with big brands offering exclusive trendsetting experiences.
3. Marketing Campaigns - Get Brainstorming
Brands can use the Metaverse for virtual and real-life engagements and boosts.
Would you be looking just for a virtual experience?
Will the benefits be realised in real life?
How do you find your audience?
How do you want your brand to be received?
It would help if you clarified these questions as you can use the Metaverse for many things and help boost existing online marketing campaigns. Then look at options such as virtual billboards or event ads. As you read this, new advertising platforms are created. The main point is to get started and collaborate with a platform to get branded installation.
4. Choosing your Metaverse Platform
Once you have decided that having a presence in the Metaverse is good for brand business, you'll need to choose a platform to help get the best out of your marketing. You can experience the Meatacerse for yourself as an individual avatar first if you choose. Therefore, you can purchase the hardware or download software and choose/create your avatar.
If you want to go in at the business level and gain brand activation, then finding a platform and speaking directly with a representative would be your first move. They will work with you to create your vision and bring it to life.
With the Metaverse in the early stages of development, there is currently no "universal gateway". So there are multiple different Metaverses you can join and explore. Within these, you will find other areas to gain knowledge of how they work, such as:
PCs
Smartphones
Tablets
Wearables
New Blockchains and more...
Here are some Metaverse platforms to get you started:
Each one contains different nuances. At this stage, exploration and research are your best friends to understand where your brand would fit and be best received.
How do I Equip Myself for the Metaverse?
Create an Avatar. When you join a community, you'll need an avatar regardless.
You can join from your smartphone, PC, tablet or game console, though both smartphones and tablets sometimes struggle with processing power for optimal output, so you'll experience lags in operations.
Get a Digital Wallet. You'll need an online wallet if you want to buy or sell items, get involved in events, and get daily or weekly rewards. Coinbase offers a cryptocurrency digital wallet, but there are many others. For observational purposes, you can enter the Metaverse without a wallet and see how other companies conduct marketing.
Buy a Wearable Device and get Immersed! To fully immerse yourself in AR and VR, you will need a VR headset. The VR market is now starting to gain traction. It didn't take off for a while, but the launch of Meta has rekindled the curiosity among would-be users. The most purchased headset is the Meta Quest 2. But they are not the only ones on the market; also popular are the Playstation VR plus the Valve Index. The benefits are accessibility to games, apps, virtual workspace and much more.
SUMMARY
The Metaverse is likened to the impact social media has had on society. Although it is here, it seems like it isn't. But as always, the ones who learn, go through tutorials and understand where the possibilities of this parallel universe of marketing opportunity lie first will reap the long-term rewards. We hope this article has given you an insight into why and where you get started. Looking for a Metaverse SEO company already at the cutting edge of digital marketing is good advice to get you off to the best start.