Creating content that your audience will love can be tricky. After all, if you've been reading about the content marketing craze for the last few years, you probably know that most people find it pretty unappealing.
Videos, blogs, images, infographics... There are so many different types of content out there. So how do you know which type will work best for your brand? How can you make sure that your content is relevant to your audience? And what type of content should you create in order to attract the attention of search engines and social media sites?
To reach your target audience, you need to create content that is relevant and valuable to them. If you fail to do that, your audience will likely find some other source of information that is more useful. The key to creating relevant and valuable content is knowing what your target audience wants - not what you want them to know.
What they like and don't like; their fears, interests, problems, challenges and questions are all things that will help you discover precisely how and what they want and how they would prefer to receive it.
This blog post will give you some great tips on how to create relevant content that your audience will love. So let's get straight into it.
Content And Its Importance
93 percent of B2B marketers use content marketing
73 percent of companies appoint somewhere to oversee their content strategy
58 percent of marketers believe original content is the most important type of content
60 percent of B2C marketers have a documented content strategy
Plan Your Content Creation Strategy
Content strategy - What is it?
There are three main components you can use for content strategy:
The goal is to combine all these to engage and keep people on the site. All the while subliminally moving them down the "Sales funnel" and keeping them focused and engaged post-sale.
Many companies focus on brand awareness which is the fundamental key of Brand SEO. So a common thread is to focus your content strategy around SEO to become visible to more users online, move up the SERPs, and drive convertible traffic towards your website.
A Hubspot report during the pandemic shows active investment into content marketing was at 70%, so suffice to say there's significant competition to capture and keep audiences currently underway.
So here we dive into some of the questions that need addressing about developing a content strategy.
Who Would Read Your Content?
The biggest challenge is finding your target audience and marketing to them.
Do I have more than one kind of user that would find my content helpful?
So do I have to write to multiple audiences?
Many businesses have more than one type of customer, so a content strategy can be forged around catering to more than a predetermined and cast type of user.
Varied content across different channels will form the basis of building your audience platform across a diverse set of followers.
What Can Make You Unique?
You will most likely have competition within your industry, even in your local area, selling or providing the same product(s) or service(s). Therefore highlighting why you offer a superior option(s) and additional factors such as post-sales service better than the said competition is your foundation.
To prove that you are the business to buy from, you need to prove that you are the one worth following and listening to.
What Formats Must Be Focused On
Some businesses make the mistake of trying to create platform and drag users towards it. In reality, to find your audience, you need to meet them head-on where they already are because they are out there.
Podcasts and YouTube channels are a must to make a complete brand awareness strategy, but you could be talking to no one. It would be best if you found out where your audience is first.
Once you have researched and found forums relating to your industry or niche, you can start looking at what budget and time you can put towards a content strategy.
What Channels Should You Publish On?
There are now plenty of channels that you can publish in different formats. These include your website and social media.
The dynamics depend on the audience you are catering to. As a broad statement, having a more mature audience who likes longer format videos or tutorials, would mean posting videos through YouTube would help capture and keep that demographic.
Suppose your product(s) or service(s) are more suited to a younger generation with shorter attention spans. In that case, platforms such as Instagram and TikTok should be considered.
How To Manage Content Creation
Getting started on what you'll create to publish can be daunting. Here are some steps to follow and establish first:
Who will be creating what?
Where are we publishing it?
When are we going live with it?
If you are a smaller business or start-up, these questions may be predetermined as you are the decision-maker. Collaboration and planning must come first to agree on an effective process if you are a medium-sized business. Your content strategy should be ironclad to prevent content clutter and duplicate content.
Research Is The Key
Content Research - What Is It?
The concept is creating a strategy through analysing online content that serves to grow your business in the long-term and build a following which increases brand awareness. A combination of factors during research can form your strategies, such as searching through top-ranked SERPs posts with multiple shares, comments and overall engagement.
Content Research Matters
You may be familiar with the phrase "Content is King", a well-used phrase within the digital marketing community. However, stale content is more like the "Court Jester" than the king. You need to conduct the initial research to see what people are biting at. Online trends change quickly, so constant research must gain a new audience.
Before purchasing, the average online user will consume 11.4 content pieces
Research Helps Clarify What Works For An Audience
How will you know what your target audience is without research?
Visuals are great and can tip many over the edge into converting into a lead or purchasing online.
SEO is used to drive traffic toward your site. Still, if you don't write to that audience, their visit will be brief, and that is why a successful SEO campaign is no longer judged around "Clicks".
Content Research Shapes Your Internal Content Marketing
Not everyone is a natural at identifying or writing captivating content that will go viral and create a tsunami of followers.
Diligent research on your competition and what information is out there need to be analysed. Also, what people are talking about within your industry and area, and what they share will help shape your company content.
It Helps You Become A Trusted Source
Part of the content research process delivers third-party resources that can be used in the knowledge that people follow and engage with.
So a combination of content for your business, morphed with outside content, will elevate it and wrestle people away from other platforms seeing you as the authority and go-to brand for transparent, concise information.
Content Research Helps Navigate the Buyer's Journey
Every visitor to your site needs different selling points at various stages to eventually buy. It's the same for a salesman/woman; every potential client is different, and you adjust accordingly to close the deal.
Without conducting research, you will miss vital pointers as to what those are. It is a common issue to overload content at the awareness stage that isn't pushing someone towards buying. So this is where we move on to "Creating Value".
Create Value With Your Content
Planning Ahead
"Fail to prepare, prepare to fail" is the old saying; well, just replace "prepare" with "plan", and here we are. When it comes to writing quality content, knowing what you are writing, when it is going live and how it will be distributed are all factors that should be watertight before you start.
Creating or using a "content calendar" to assist with planning is a bright idea. Using a calendar can hold you and your team accountable for posting timeframes and getting used to this being a continual practice.
Firefly and Hubspot offer free online content calendars to help organise you, and both use Google within them, helping to keep everything focused on the SERPs. Here are some key pointers for planning:
Identify what platforms or channels to use to leverage your content.
Identify common questions and problems your audience always asks online and meet that head-on.
Have a clear plan of how the content will equate to building revenue.
Figure out the buying points where your content leads the potential customer through the whole purchasing process.
Make sure you find out the right analytics that shows performance indicators showing if your content strategy is working.
After researching the behavioral patterns of users, determine what keywords should be used to meet their searches with your content.
Look into topic clusters; these will help meet searcher intent.
Decide what you will try your content on, webinars, tutorials, infographics and so on...
Reading this may become overwhelming. However, there are plenty of SEO agencies that part of each package includes professional content writing or freelancers who can assist.
Fiverr and Freelancer can be helpful if you are on a budget and don't want to employ in-house or just want content writing, not an entire SEO campaign.
Understanding The Buyers Journey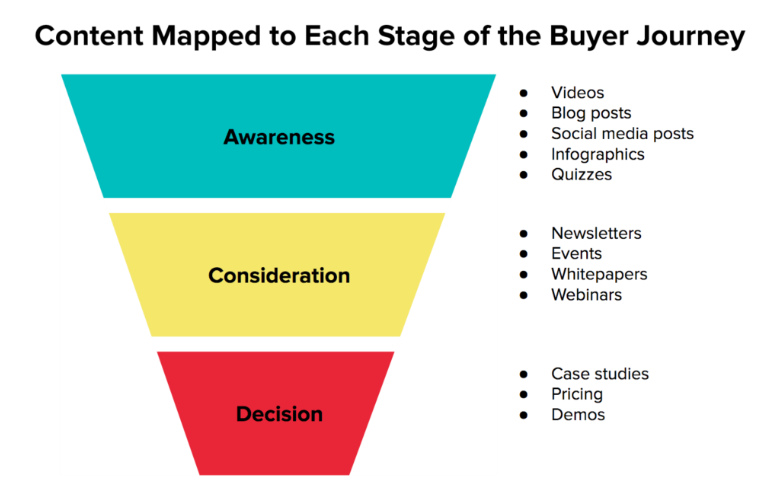 Source: Suttida.com
As mentioned above, as part of your planning, you must understand the process of the "buyers journey". This process avoids wasting time creating quality content that goes amiss and doesn't contribute to your brand awareness.
Deciding on the type of content you will produce is the start, but understanding "why" is the key to success.
You need to identify "triggers" that your audience will react to and consume more content. Here are some pointers:
Power Pointers - Knowing key terms or phrases that create action. "Exclusive Acess" is an example to test.
Keep it Simple - Always keep things simple to understand. Your audience may be vast in age and demographic, so write to keep everyone involved and is easy to interpret. If people have misgivings, they won't get down the content funnel, let alone the sales funnel.
CTA Testing - A great way to test audience interaction is using CTAs. Here you can see (using analytics to monitor) what creates the urge to move further into your funnels.
CTAs clarify what motivates and drives your prospective and existing customer base to act.
Once you have established what makes your audience act, you can use this strategy throughout all your content marketing. Here are two recommendations of platforms to help you to test your email marketing:
For smaller businesses, try Ontraport. It has many capabilities at a relatively low cost. Here is a link to a free Ontraport demo.
Hubspot is a better fit for larger businesses as there are numerous features, and it is fully scalable. Also, take advantage of their free email marketing at this time - take a look here.
Help People By Solving A Problem
Problem-solving is a highly sought-after skill. With the boom in social media interaction and people finding themselves in a situation where they can freely express their opinions, consumers like debates.
Users like to educate themselves on how others have managed to solve problems or used different tools or mindsets to overcome difficulties.
You'll gain a loyal online following if you can focus your content on helping people solve problems within your industry.
Problem-Solving Content - What Is It?
Problem-solving content is content derived from users' pain points identified within your sector with your initial "content research".
Understanding their pain points and creating ideas and solutions to these will gain loyalty. You can also provide real-world solutions; they don't have to be yours and patented; just come across as being helpful.
Content Audiences Can Use
The goal of problem-solving content is to teach your audience better and alternative ways to solve their pain points and teach them how to approach these difficulties more efficiently. There is a myriad of ways to enhance your problem-solving skills. Still, there are a few indicators that will make anyone improve, such as:
Understanding: Understanding a situation or issue is the prerequisite to understanding its approach.
Process: Solving a problem begins with a process; without a strategy, it's hard to provide a solution.
Steps: When tackling a problem, everyone looks for a step-by-step guide to help them along the process. Otherwise, people become overwhelmed and take the wrong path.
As you create your problem-solving content, you must also ensure it is attractive, engaging, quirky and motivational; remember you are guiding someone through a pain point, so try to make it as stimulating an experience as possible.
The result will be someone who has solved an issue that brings relief and enjoyment naturally, but when they look back on it, it was fun doing it.
This will resonate with someone who will turn back to you time and time again and, without a doubt, recommend you to others.
Be Transparent
Brand transparency is now a prominent online trait. Millennials have taken over the marketplace in recent years. This generation has become waterproof to the traditional marketing smoke and mirror tactics. They are more than ever openly critical of brands if they feel they are using such tactics to gain customers and revenue.
With customers becoming hyper-aware, many businesses have had to hit the reset button and re-work their strategies to find ways to appeal to this type of consumer on a genuine level.
This is nothing new, but brand transparency is fast becoming a digital marketing buzzword. In essence, it is no more than gaining consumer trust. Open and honest are the starting points where you own who you are brand-wise and must stand behind your brand, your practices and what your business is looking to achieve.
Being upfront, addressing concerns and answering questions means consumers feel valued, not just part of another business transaction. Why would anyone question you if you stand behind all aspects of how they are produced or what they provide? If you could run your business in a glass house, then people would be able to see how your company operates.
Whether they take the time to look at it is up to them, but just the knowledge that they could if they need to goes a long way; it instills trust in your brand. Once consumers feel you have nothing to hide, they have more confidence in your product(s) or service(s).
Consumers want to know they are buying quality and not being pitched and sold. Please understand that transparency is not opening up and revealing all your trade secrets and what you are doing that keeps you ahead of your competition; on the contrary. You are building a following, the same as in any other walk of life; for people to believe you, you must give them a reason.
Don't be afraid to shake things up once in a while
Integrating AI Into Content Marketing
I thought we'd go a little outside the box at the end of this. AI is an unstoppable force that is maturing and evolving at a rapid pace. It is integrated into all areas to help businesses enhance their services to their potential and existing clients.
Traditional content marketing produces content to appeal to the general audience and grab their attention enough for them to continue to read.
AI, however, is opening the door to alternative opportunities to personalise content for the reader. This magnifies content making it highly relevant to the users. Its appeal will help grow relationships and brand awareness with each and every reader.
A new horizon of engagement is upon us. Gathering data on demographics, engagement trends, and user behaviour can be funnelled instantly and delivered with perfect timing and placement to target a specific group with information that will resonate with them. Until recently, we have witnessed passive content marketing. Using AI's predictive analytics, you can use variables to segment customers and predict their future behavioural patterns and reactions to your brand.
This can enable you to target specific groups of customers using your quality content at the perfect time to gain the best impact.
Advanced Scheduling With Automation
Marketing automation at this stage is a relatively new concept. Still, it is fast at work transforming how small to medium-sized businesses, and large corporations plan their marketing strategies.
It uses many human resources to continually post your content across multiple platforms simultaneously: Enter AUTOMATION. Automation enables you to create weeks if not months of content in advance and simultaneously release it across your networks.
That is also nothing new, but when coupled with AI, you open a gateway for efficacy and ROI.
AI is there to analyse when the best time to release content is to receive the most engagement levels. It can subsequently adjust posting times based upon engagement analytics and multiple other factors, meaning you don't need to sit around a board table for hours after a series of significant releases and figure out what went right and wrong.
AI can also assist in finding what platform suit your demographic best to connect with groups and markets you didn't realise would be interested. Therefore helps you tweak your overall message to be more inclusive and gain higher engagement rates.
You can also use AI to help you identify the best platforms to connect with targeted groups and tweak your message for a better engagement rate.
SUMMARY
Content is still king. It is just a case of how you plan and strategise how to use it. With competition rife in 2022 and even more challenging in 2023, this plays a significant role in your online success. Please take advantage of some of the links above. They will help give you a definitive understanding of the importance of content today and how to use it. Good luck.