A significant factor in successful SEO is understanding how to audit. From the outside looking in, auditing seems complex, and many hire the help of an established SEO agency for assistance. Still, it's not as complex as many think.
The number of variables to be analysed has increased exponentially in recent times. However, focusing on what is vital to your strategy's success is still effective.
In this post, we'll present the best tips on performing an SEO audit, indicating the metrics you should follow, the main auditing tools, and how to interpret all this data. Here are the topics we'll cover:
What is an SEO Audit?
Why do I Need an SEO Audit?
SEO Auditing Tools
How to Conduct an Audit?
Summary
What is an SEO Audit?
SEO audits are the equivalent of a regular health check with your doctor or an MOT on your car; however, preferably more than once a year!
An audit will present you with the status of your online presence and how the search engines interpret you. It is the first step in understanding what elements on your site need revising to adhere to best practices.
After an audit, you will have a clear blueprint of what issues need to be fixed to streamline your online efficiency and enhance your online presence.
Typically an SEO audit will uncover:
Any Website Structural Problems
Any Technical SEO Problems
Any On-Page SEO Problems
Any Potential Off-Site Problems
Any User Experience (UX) Problems
Any Content Upgrade Opportunities
As mentioned above, they are considered a "health check" for your website and a necessary one that no website owner should avoid. Knowing what you need to tweak to enhance your marketing strategy and overall standing online is necessary for success.
What an SEO Audit Should Achieve
Firstly an SEO audit should leave you with no doubt about where you stand with your online visibility. Both structural and content features that directly affect your SEO will be found. An audit will provide an overview of what pieces of the jigsaw need fixing and if any components are missing.
Lastly, an SEO audit should convey recommendations for you to act on. Doing so will give you a roadmap that is easy to follow to get your website functioning at a premium level and driving new organic traffic to conversions.
What an Audit Shouldn't Be
An SEO audit shouldn't be hurried. When you conduct an audit, you want it to be thorough and make clear everything that needs to be tweaked, changed, deleted, optimised and more.
Due diligence is required when making significant changes to any website. SEO specialists take their time to thoroughly analyse the data to offer impactful and accurate recommendations.
As you will find with general SEO, audits have no "one size fits all" either. Performing situational analysis will allow you to hone in on specifics relating to your particular site.
Check your Organic Traffic
A good starting point for beginners is Google Analytics.
With google leading the way, using their tools are ideal, especially when they are free!
Using Google Analytics will assess traffic acquisition performance from your website, enabling you to customise a timeframe for analysing.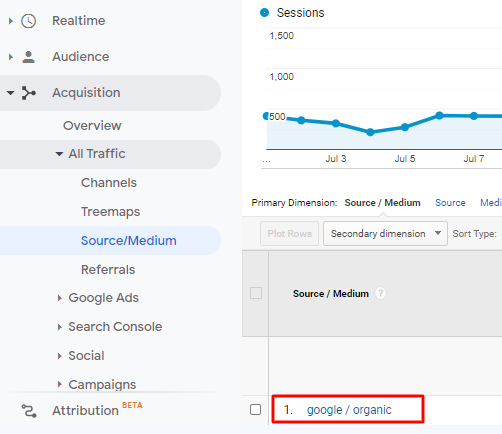 When you click on "organic", it will present you with all visitor acquisition data. Here is where you can clearly see peaks and troughs that will help the analytical process.
Why do I Need an SEO Audit?
Auditing can be at the forefront of business owners' minds or not! Most people understand the value of audits across many facets of a business. Still, with a website, people are often left asking:
How much is it going to cost?
How much time and effort is involved?
Is this actually worth it?
This is where applying the time and effort yourself or outsourcing to an SEO agency is the main decision.
It isn't easy to put a price on an audit, especially if you have outsourced to SEO specialists, as this is a price included in an overall SEO package.
As far as doing it by yourself, you'll need to calculate that expense against what else is essential in your diary. However, a thorough SEO audit can drastically change your bottom line once you have identified what needs to be fixed.
So the answer to "is it worth it?" is YES. Taking the time is worth it once the issues are laid bare to see, such as "toxic backlinks" or "load-up speed issues", before they damage your rankings on the SERPs.
An audit can act like preventative medicine to help prevent issues before you have to fix them when they have already turned your marketing campaign negative.
SEO Auditing Tools
Many SEO tools are available online, covering all aspects of your online presence and having numerous SEO audit features.
Google Analytics we will cover later as it's a free tool. Still, we want to bring your attention to two paid services that SEO professionals widely use:
Semrush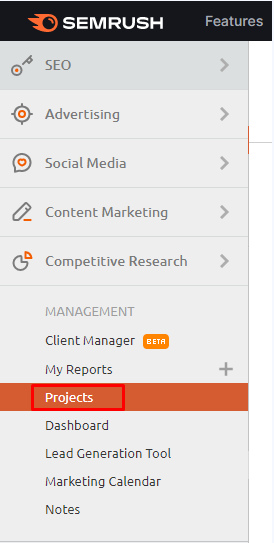 To use Semrush, you need to register. Once registered, go to "Projects" (which you find on your "Tool Panel") and select your created project.
Once inside, you can find analysis options inside "Site Audit". Within here, you have access to conduct various analyses covering internal linkages to many technical aspects.
Here you can monitor several other aspects of your online presence:
Rankings
Social Media Effectiveness
On and off-page SEO
Backlink Building
Organic Traffic
Plus many more...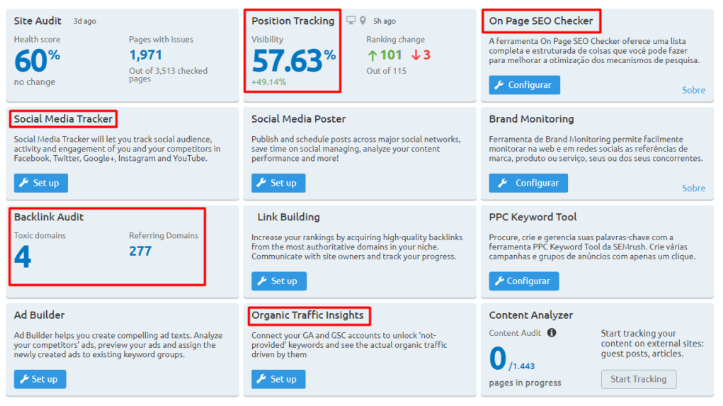 Screaming Frog
Screaming Frog can be a free tool for up to 500 URLs and tracks web pages similar to Google, giving you access to functions to perform a thorough SEO audit.
By clicking on the "Overview" tab on the right-hand side of the screen, you can easily navigate the search results on your site; here, you will find a list of errors.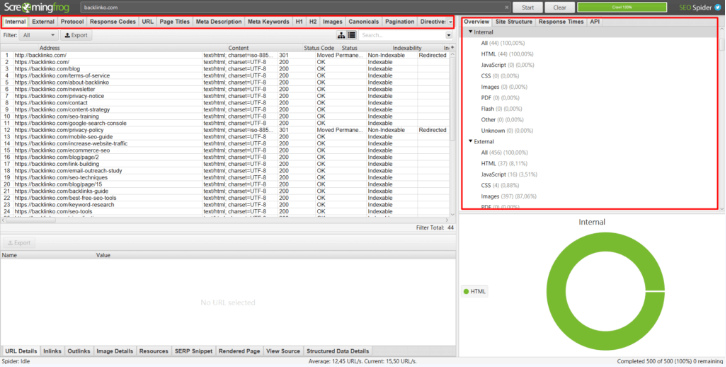 Once the search results are apparent, you can use the "Option Bar" found at the top of the page, and this will give you valuable tips to examine them in more depth.
Google Analytics
In today's digital marketing, you don't need to look much further than Google because, in reality, it's Google these days that you want to impress. If keyword ranking position is everything to your bottom line, then follow their guidelines.
Google is a good platform for making a to-do list of actionable goals and a timeframe to complete them.
Google Search Console
Google Search Console consists of many helpful SEO audit tools. Here, you can research your keywords, click-through rates (CTR) and many valuable tips and insights into tech solutions.
Google Search Console can be useful for resubmitting pages that have been optimised for reassessment and subsequent ranking boosts.
Google PageSpeed Insights
In 2022, page speed is one of the most important factors to have right; otherwise, your visibility will suffer. Therefore a website audit cannot be called one without thoroughly checking speed.
Google PageSpeed Insights provides a user-friendly platform that conducts both analyses on web pages and gives insight on how to fix them. That may sound obvious, but it is a huge bonus given that it is a FREE tool!
Google Schema Markup Testing Tool
An example of Google offering more valuable FREE SEO auditing tools is Google Schema Markup Testing Tool.
SEO professionals will use this tool to test structured data and validate your schema markup.
SEO Audit: How to Begin?
This section will highlight the most frequent structural issues that could hold your rankings back.
Here is a step-by-step guide to getting all the required information to draw a line through to tweak and optimise your online presence.
Let's get to it.
Google Indexing Only One Website
Unbeknown to many is that one web page can be indexed differently; here are some samples:
https://mywebsite.com
http://mywebsite.com
https://www.mywebsite.com
http://www.mywebsite.com
If you owned this domain and clicked on it, you would get the same result and land on the homepage, meaning on the outside, everything looks good. However, to Google, these appear as different versions linked to the same domain.
Applicable on every page on the website, if they do not redirect to your main version, they will end up as unnecessary baggage in your indexing.
Look closely at both the "HTTP" and "www" entries of the "mywebsite" versions will go automatically to this new redirection.
Here is the time to start testing all versions, ensuring they revert to your main version each time. As a rule-of-thumb, it should be the "HTTPS" version, not requiring the "www".
For companies that are receiving payments online, HTTPS is a vital sign of security for the user.
It is now a common denominator for users to differentiate between safe websites and those that are not.
Finding and Deleting Bad Pages
As you will have read many tips and advice for SEO in 2022, Google likes content.
That is, in general, correct; however, not always!
Google rates domains that contain pages with value. Content deemed duplicate, low quality, has few internal or external links and receives almost no traffic can be considered harmful.
The "spoiler alert" for many is that you will likely find harmful pages when you conduct your audit and realise they are part of the problem.
Harmful pages can come in various formats, and here are the most common types:
Old Content - Not updated and little traffic
Obsolete Content - Out of date or old product lines
Low-Quality Content - Content not assisting on-page SEO
Old Product Pages - Not updated
Potential Plagiarism - Using text from other websites within your industry
As a digital marketing industry standard, if you have been writing a blog for the past year without conducting an audit or cleaning up harmful pages, there is a very high possibility that you have something affecting your current rankings.
So for this to take form, try to estimate how many web pages you have on the domain - everything from products and category pages to posts and all other pages.
Type that into Google as: site:yourwebsite.com (so enter your website), and you will see how many pages Google has indexed.
We will use Semrush as an example again. Naturally, they have many indexed pages, but this helps for you to see for yourself on Google: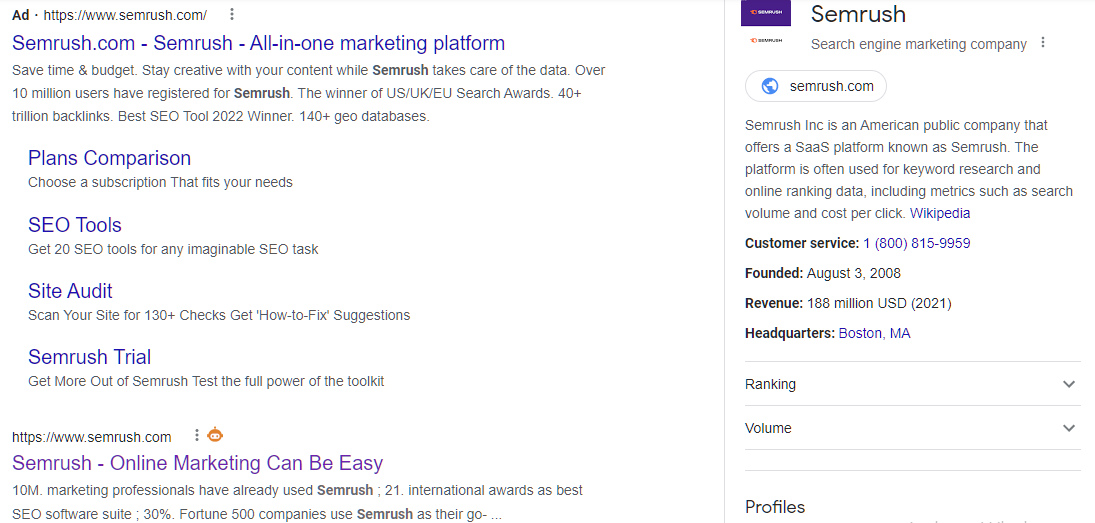 Are you a Little Surprised?
If there are more pages than you expected, you may have harmful pages that need to be fixed for your rankings to flourish and move on to the next phase of SEO auditing.
Finding Harmful Pages
Let's start again with Google Analytics and click on see "all pages". Choose a timeframe that is minimum 3-months. Then select "Page Views" to get a briefing on the least accessed pages:

You will quickly identify each page with the lowest traffic score during the selected period. If you find a page with one visit per month, you have to question what value that page has.
Using this process, you can find old posts that could fall into the 'harmful' category and affect rankings. So once you have a URL, enter it into Google Analytics to delve deeper into its recent performance.
Dealing With your Harmful Pages
Discovery is the first phase, then two choices:
Deleting the pages is the most common trend if the pages have predominantly no future use or can't be updated. Still, while left are compromising your domain and its ranking, they are surplus to requirements.
However, please note that when you delete a page, you must ensure you redirect the URL to another domain page. If a visitor searches for it, they do not end up with a 404 error page.
Suppose you feel these pages could be resurrected, and they can provide value once again. In that case, you can restructure the content rather than deleting them. You can achieve this using a 301 redirect.
New information, new video or infographics can be added, and further engaging content that is keyword-rich and overall extends the word count will be less work than creating new pages.
Mobile-Friendly - Is no Longer an Option
Google had already understood in 2018 where the market was heading, and that was mobile dominancy. And Google stated that it would be a ranking factor.
So you have no option but to optimise if you are not; now, a Google mobile-friendly test can help you before you look into that.

Indexing comes first to the search engines, so mobile-friendly must come first for you. Google continues to base their rankings and now crawls your mobile-friendly version only. If you are NOT mobile-friendly, this is your first port of call before conducting any tweaks based upon audit findings.
Making your Website Faster
With the recent advancements in global communication, the internet is becoming faster. As mentioned earlier in the article, speed is now one of the SERP's most frequently watched metrics. With that becoming an expectation, users will likely bounce off quickly from a slow-loading site, which Google does not like.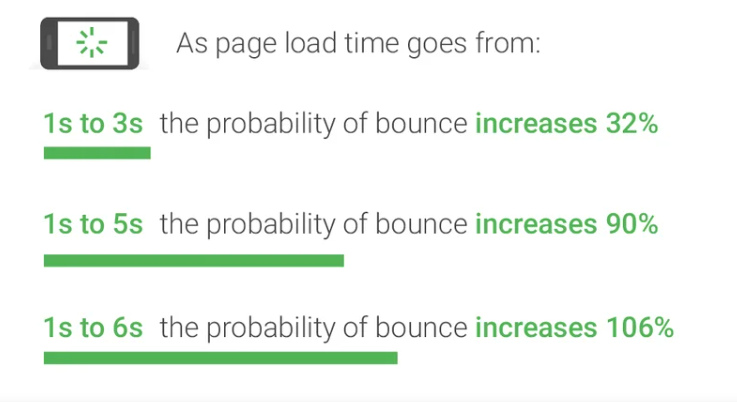 As you can see from "Think With Google", these figures clearly show how users treat slow-loading sites. Over half the users giving up on a site after only 3 seconds of loading is a cause for concern.
Reasons that cause a slow website:
Image overload
Media formats are too heavy
Bad coding
Unreliable server
And more...
PageSpeed Insights is an excellent place to test your speed: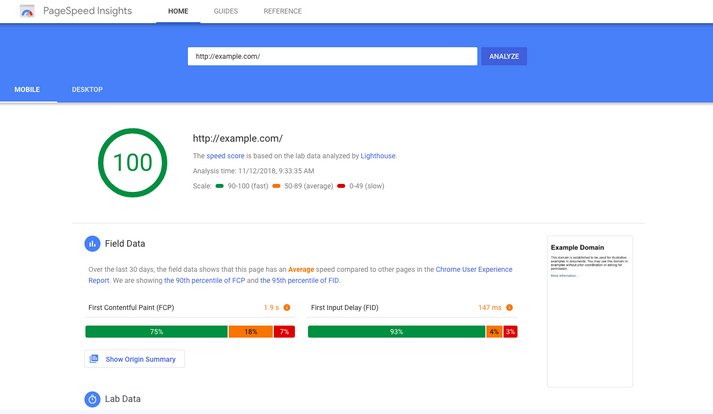 Our advice is not to look at this tool just for measuring your page speed; it can also provide data on each loading stage's speed and areas to improve.
Now let's look at how to start cleaning up your website to increase load-up speed.
Decreasing the Website Size
Another industry rule-of-thumb is that website that stores information in bytes tends to load slower. So now you need to look at compressing the images and text to a lighter format, so it doesn't hinder the quality.
There are many free online tools to assist you, such as Compressnow. Compressnow is an easy-to-use tool that is useful for bulk uploading. It compresses PNG, JPEG and GIFs from your desktop or laptop, you just set the compression percentage, and you can re-size ten images at a time.
Improving your Website Code
Code that is poorly written requires more time from the browser to read. If you're struggling to find why your site is not at an optimal level, a web developer may be of use to help re-write and simplify the code.
Alternatively, an SEO agency may have web development as part of its monthly packages. It will help speed up the pages (as it is in their interest to do so).
Investing in Premium Hosting
Many start-up online businesses get caught up with cheap domain and hosting. These can be fine at the very beginning. Still, as your website develops, it is prudent to look at some larger hostings to ensure you deliver a premium service to your visitors.
Here is the Forbes list for 2022 of the best deals for hosting.
Organising and Simplifying your Website
You may have come across the term "website architecture", which refers to the practice of structuring the flow of your web pages and how you link each one.
The architecture defines how visitors and search engines can browse and index each page and quickly find correlating information they are looking for.
In short, websites with solid architecture have a simple structure with fewer layers. As your homepage is further away in terms of clicks, it increases the difficulty for users and crawlers to identify it.
Here we use, Backlinko to illustrate how the structure of a website impacts its usability: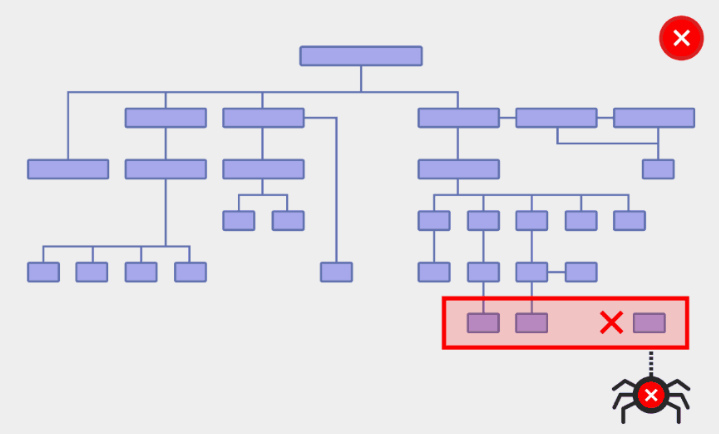 With a structure containing many levels, Google's bots or other search engine crawlers can't reach pages too distant from your homepage.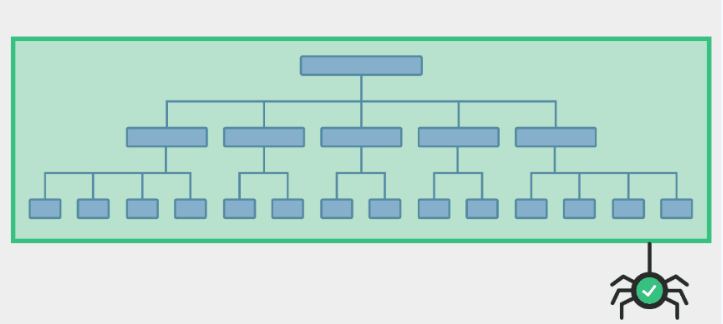 Fewer levels within easily-connected structures make it easy for Google's bot and users alike to navigate.
A further impactful aspect of site architecture is your SEO through your links.
NOTE: If a domain and its homepage are close, Google and other search engines give it more authority.
All websites have a hierarchy hidden within the structure. If this is not defined when the site is being developed, it might not correspond to what you want.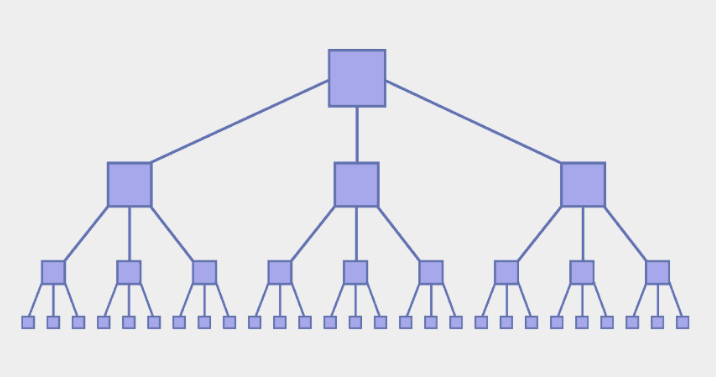 In conclusion, links within pages close to the homepage will gain more authority. Therefore it is not wise to have important SEO pages near the bottom of your website structure.
Finding Pages That are not Indexing
It is imperative that the search engine crawlers can find all your pages quickly and efficiently. There may be a case of you having pages that Google has not indexed.
To find these pages and help get all your content working, we turn to Google Search Console. Go to the Index section and then click Coverage.

This is a one-stop shop for finding out exactly where your pages are at with indexing.
Here you will find out:
Which pages have been normally indexed
Pages that are excluded
Pages that have been indexed but contain a problem
Others containing errors stopping them from getting indexed
This example focuses on the latter, which corresponds to what is highlighted. You click on the graphic to determine the cause of the error and what pages it affects.

In this example, you will see plenty of work to do at this stage, but it is underway.
Typically, bigger websites tend to be slightly more susceptible to indexing errors.
Screaming Frog was mentioned earlier as their SEO tools can also assist you with mapping pages containing indexing issues. It is similar to a Google crawler in how it works; it provides all the page indexing information.
Then look to compare all the unindexed pages generated using the two tools. Leave any pages you don't need out of indexing or delete them; if deleting them, don't forget to follow the 404 error page and 301 redirect instructions.
SUMMARY
We hope this SEO audit tutorial has been helpful. With so many ranking aspects affecting successful organic SEO, a site audit is a fundamental part of investigating your website, its pages, its content and how the search engines perceive them. With so many small factors affecting how your pages are indexed, this is an essential cog in the wheel that must work perfectly to gain online visibility and maximise traffic and conversions. If you are unsure how to approach it, look for SEO professionals to assist you. Good luck.