A learning algorithm suggests new content through the app based on user activity and likes. It was previously known as "Google Feed" for those wondering, as this sounds familiar. Google rebranded the app after it reached the 800 million user threshold, and they brought out a new enhanced version - Discover.
The upgraded version has many aspects that enhance your search engine optimisation (SEO). So we will take a more in-depth look at what Discover is and how it can impact you.
So, let's get into it.
What is Google Discover?
Discover appears as a feed delivering videos and articles of interest to mobile devices. The content is personalised and formulated through search history and related content. Users have many points where they can enhance their customisation to get multiple options on topics of interest. The app constantly evolves when new content is published, and the user's settings and favourites are updated.
Before Discover was re-branded, it was considered more of a text-based app that grabbed the user using bold headlines, meta descriptions and a sprinkling of visuals. However, in 2022 for content strategy, Discover is a force to be reckoned with as it drives substantial website traffic. The easy-to-use app covers news articles and concentrates on predominantly visual aspects with videos and photography.
Discover is found on almost all Android and iPhone devices or, if not installed, is readily available on the App Store or Google Play. It is used by signing in with your Google account. Once you open the app, you are presented with Google cards under the search bar. On iOS devices, these cards are on the "Home tab" and the 'Discover tab' on Android devices.
Why Is Google Discover Important?
By now, most website owners fully understand the importance of SEO at least and how it helps brand awareness and creates online visibility. However, many do not understand the value of Discover and what it can do to help an SEO campaign. It helps SEO because Discover enables users to get a direct feed on topics they are interested in due to their search history and current preferences. Plus, users get various data to engage with through videos and blogs. Plus, it does not restrict itself only to showing new content. It will show previously published articles and content if they are relevant regardless of when it was published.
So, this is where evergreen content plays a significant role in content curation as part of SEO. Discover is a vital cog in the wheel of content strategy. Google's Search Console contains a reporting feature helping businesses analyse their content performance, which is a key indicator for other aspects of your online presence.
In 2022, analytical tools are the key to gaining an advantage over your competition. This data will help your overall content strategy, improve your rankings and potentially get a spot on Discover.
How Does Google Discover Work?

Upon Google announcing the rebranding of Google Feed, it advised us they were using a three-tier shift for the transition. One of the most significant shifts was to move away from a query-based solution to providing relevant blogs and articles without physical user intent or queries. The functionality of those familiar with Google Feed remains similar, but there has been a seismic shift in updates since 2018. So it's essential to recognise how Google provides content. The fundamentals have remained the same, delivering content based on a user's likes, shares and search history with Google's AI included.
Discover delivers more relevant content based on interaction with the user and app. So, it is essential to understand the differences between Discover and the old Google Feed.
Here are some examples:
A Change of Name - When the launch of Discover was announced, Google felt the rebranded name was more suited to what they were looking to achieve in delivering new fresh content.
A New Look - If you used Google Feed, there would be no doubt that the new version is more aesthetically pleasing. You now have new topic headers and the Discover icon. The feature allows users to follow a particular sector of interest.
User Control - Users have greater autonomy with Discover when algorithms can become overbearing with continual feed based upon search history. Each Google Card has a control icon at the bottom to see more or less related content.
Accessibility - You can now get Discover on your Homepage rather than through Google's mobile apps. And with it being available across all mobile ranges, it is becoming commonplace for users to engage.
Optimisation - As mentioned above, the app can significantly affect a business's SEO strategy. Content creation plays a significant role as you must pass its guidelines before it adds you as a feature on Discover.
Optimising Content for Google Discover - Is it Worth it?
Google has made it clear that indexed content becomes eligible for Discover. Still, as mentioned above, there are best practices for Discover and content policies that must be adhered to. One constant aspect of Google is its preference for E-A-T (expertise, authoritativeness and trustworthiness) content. For your SEO strategy, you should look to curate E-A-T content throughout your web pages and blogs as standard.
Though Google has indicated that you do not need to add structured data or tags to have a better chance of appearing on Discover, having content that passes all the requirements to appear on Discover doesn't guarantee that you will! However, as with all things Google, you need to put yourself in a position with a chance of appearing.
So let's take a look at some basic steps to get you there potentially:
Content Optimisation - E-A-T
We just touched upon the importance of E-A-T in Google's algorithm, which applies across the board, not just for Discover. Google released comprehensive general guidelines in July 2022. These guidelines help to impress how they view content to have a level of E-A-T that is acceptable.
Suppose your content is well-researched, fresh, relevant and informative. In that case, that forms the spine of information Google will happily share with its users. In addition, to elevate your chances, try to use citations and statistics from credible sources (statistics need to be up-to-date) that link back to the source. Page titles and headers are now thoroughly scrutinised by Google. It would help if you avoided the temptation of using manipulative tactics with your headers to get people to click (known in digital marketing as "clickbait"). Content curators can sensationalise a header to gain interaction, but the content doesn't match. Remember, Google's algorithm has gone from ten years ago being the equivalent of a teenager to an Oxford or Harvard graduate in 2022; it doesn't miss anything! If you want to appear on Discover, keep it organic and don't try to cut corners or cheat the algorithm.
Images and Engagement
Millennials and younger are more captivated by video and images than ever before. So, although keyword-rich, informative, engaging content forms the foundation of your SEO exploits, images and video act as the sidecar to keeping people engaged.
You garner more screen space which is known to help increase your click-through-rates (CTR) up to 79%. Google case studies state that large images in Discover improve CTR.
Two points to remember:
Images must be of the highest quality and a minimum of 1200px wide.
Do not use your website logo as the featured image.
Mobile Compatibility is a Must
With Discover being a mobile-centric app; mobile compatibility is non-negotiable. Most websites created in recent times will be mobile-friendly by design. For some time, Google's crawlers have been indexing website web pages using only the mobile version. If you are not sure about this, Google is here to assist. You can test your mobile compatibility using Google's:
With mobile compatibility; you are dealing with the same images and content in a much smaller space, so you are looking at the following key usability aspects to please the user:
Responsiveness
Easy-to-Read and legible
Fluid design
Easy to click internal links and CTAs
Great design
On the content side, you must think about formatting:
Title, headers and subheadings must be to Google's Best Practices.
Don't use block text. Keep your paragraphs thin, as you have less space. Keep them at 2 or 3 sentences each.
Use your white space wisely for images as a break from text
Use bullets or numbered lists to make important text easy on the eye.
Personalising Google Discover
Discover presents stories through "feed cards", and each one can be controlled and fine-tuned by the user. Let's take a look: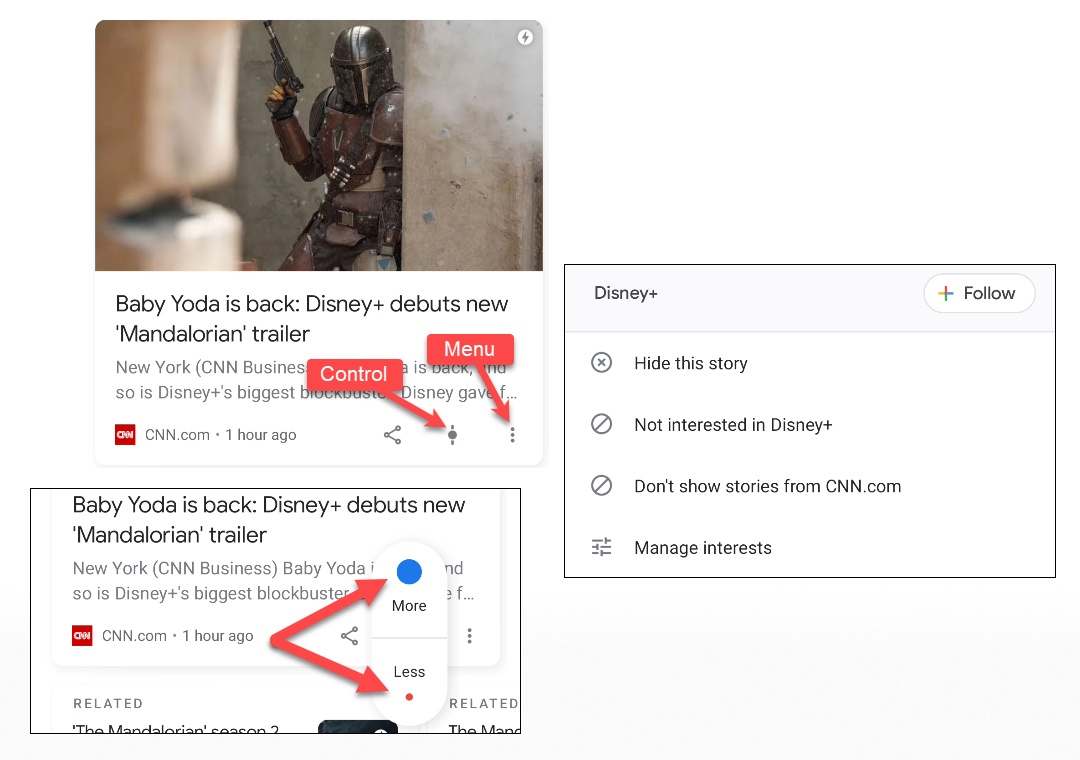 As you can see above, we have used Star Wars as an example.
The menu button provides a few different options. In the example, Google deems the topic of interest to be "Disney+". At this stage, you have the opportunity to tell Google you are not interested in Disney or click to "follow" for further information. Once you click to follow, the algorithm takes note, and you will be presented with relatable content moving forward.
Then you also have control as you go along to choose to see "more" or "less" of Disney+ related material.
That is, though, just touching the surface, there are many more features you can use to streamline your Discover feed.
SUMMARY
Discover is a great tool to help bring out the content curator in you. Your content strategy for this year and 2023 should be written with Discover in mind. Content curation is primarily for your web pages and blogs to attract traffic and increase rankings. But there are many other Google rankings factors out there that can be tapped into to provide alternative ways of building brand awareness. Try it out; it can only boost your existing SEO strategy. Good luck.